In case you guys didn't know, Aptoide has an Android Smart TV (and Android set-top box) version called Aptoide TV.
Aptoide TV brings you an app store that offers content with a rich user experience, optimized for the larger screen devices, such as high-definition televisions. Yep, it means that you can use Aptoide not only in your mobile devices but also from the comfort of your couch. You don't have to thank us - just USE it!
Oh, yeah, but... the thing is, depending on your TV browser, installing Aptoide TV might be a challenging process. So for that reason, we've decided to create this guide to help you guys install Aptoide TV in your living rooms.
Below you'll find the 3 most common ways to install Aptoide TV.
Bear in mind that whichever way you choose to install your Aptoide TV, there are 2 things you'll always need:
Go to Settings and enable the installation of apps from unknown sources.
A file manager app and a browser; most Android TVs already come with these!
1. Install from browser on your Android TV or Fire TV
This is the easiest way ;)
A. Go to your browser and navigate to aptoi.de/tv;
B. Click on 'Install Aptoide TV' to download the installer;
C. Run the installer from your file manager, and voilál!


2. Install via USB
First things first, on your computer:
A. Go to aptoi.de/tv
B. Choose 'Install Aptoide TV' to download the installer.
C. Copy the file to a USB flash drive.
On your TV device:
A. Insert the USB flash drive to your device
B. Run the installer from your file manager, and that's it! Easy peasy, right?
3. Install via WiFi (Requires ES File Explorer)
ES File Explorer has Net Manager feature, and we can transfer the Android phone's app to the Android TV.
You need an Android phone and an Android TV, both devices need to be connected to the same network (LAN, WiFi), and you need to have ES File Explorer installed on both devices.
On your Android TV:
1. Launch ES File Explorer, and select Net Manager Tab. At the Homepage view, you can find Net Manager tab in Network category.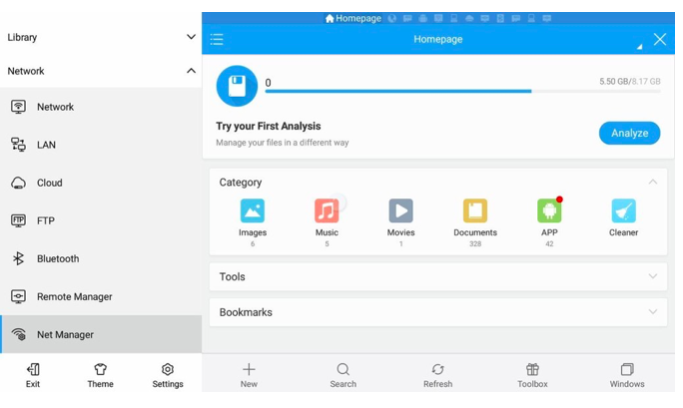 2. Confirm that you're connected to a Wi-FI or LAN network. You will see: "You have joined a network, SSID is your-wifi-spot-name".
On your Android phone:
1. Launch the ES File Manager. At Homepage tab, click on the icon named "APP".
2. You will see a list of the installed apps on your device. Select and long press the ones that you want to send to your Android TV.
3. After selecting, press the "send" button on overflow menu.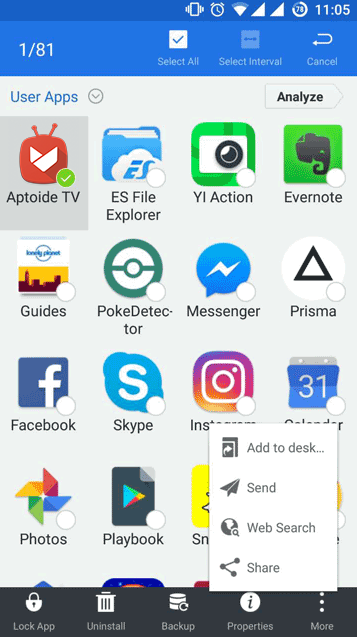 4. ES File Manager will search for devices connected to the same network and will display a list of the found ones. Choose your Android TV and press the send icon.
On your Android TV: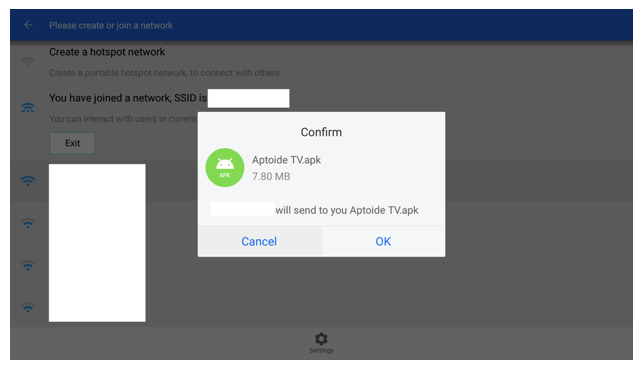 1. When the confirmation display appears, press OK to proceed.
2. Choose a folder to receive the file and then run it to install Aptoide TV and that's it! :)
And it's done!