Yes, and we are not the only ones saying it.
The scientific study "Understanding the Security Management of Global Third-Party Android Marketplaces", made by Waseda University in Tokyo, Japan, states that Aptoide is the safest third-party Android Marketplace among other 26 companies.
The study, which was published in the ACM Guide to Computing Literature, collected more than 4.7 million Android apps from 27 third-party marketplaces in order to determine their safety.
Several factors were evaluated in order to create a security index of the market; the rate of benign apps, review system, explanation of app permission, report system Safety badge and Hypertext Transfer Protocol Secure (HTTPS).
Based on the results, the authors of the study ranked each of the marketplaces according to the security index of such marketplaces. The result below clearly show Aptoide as the safest Android marketplace:
(Source: "Understanding the Security Management of Global Third-Party Android Marketplaces" made by Waseda University in Tokyo, Japan - Page 17, Item 5, Figure 5)
We won't lie to you. It's a challenge. Aptoide has been growing its user base steadily for the past years. As a result, it has seen a huge increase in the number and diversity of apps.
Since it is an open social platform with user uploaded content, we must take extra measures to ensure consistent quality over time.
How do we keep Aptoide a safe place
Anti-malware system
We have to deal with malicious users who try to upload malware disguised as popular apps, as well as annoying adware, on a daily basis. That's precisely why our team created an anti-malware system.
Our anti-malware system constantly scans and filters content on the Aptoide store to make sure users are presented with information regarding the safety of the app that they are trying to download.
Here's how it works:
Our system scans each app using a pool of well-known and up-to-date anti-malware systems. Even when other anti-viruses are not able to detect them, our anti-malware engine is designed to recognise and respond to new threats. This means that we can internally ensure the best protection for our users.
Before it is actually ready to be downloaded and installed on your device, the system is filtered and classified according to Aptoide parameters.
Once uploaded, apps are rescanned over and over to ensure that no malware is missed and that users are only exposed to safe content.
Our users can also flag potentially unwanted apps that our system might have missed. This user input is then used by the security team to update the anti-malware system.
R&D in Cybersecurity
Our R&D team focuses in building solutions to the challenges of the app market, and cybersecurity is one of our top priorities. Currently we have two R&D projects in cybersecurity (co-funded by European R&D frameworks):
AppSentinel focuses on the use of Artificial Intelligence to understand malware patterns and accelerate the detection of new threats.
TrustChain focuses on the use of Blockchain technologies and developer reputation to increase the efficiency of the cybersecurity processes.
Learn more about them here!
---
There you go! Aptoide is about social app discovery, where users recommend and curate apps to and for other users through their stores. The most trusted and verified apps are found in the apps store – the official store within Aptoide.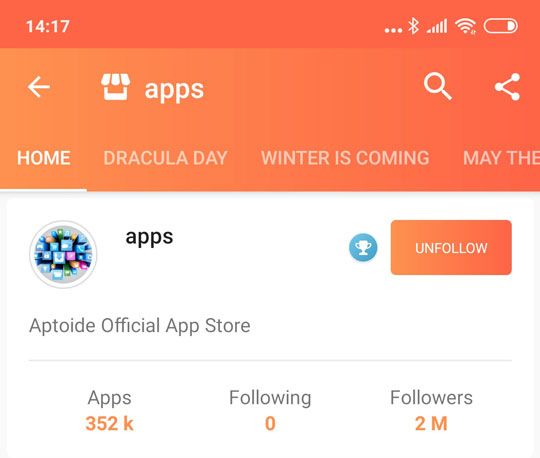 Next time you think about downloading an app from Aptoide, remember, we've got you covered!