One of the best things about working at Aptoide is that we get to see numbers turn big really fast. Once in a while there's a new milestone that makes us celebrate around here. 2016 was full of such moments!
Aptoide surpassed 3 BILLION DOWNLOADS during 2016! 🎉 Thank YOU for helping us make history! Our goal is to provide the best Social App Discovery service, which, of course, depends entirely on YOU, our community.
The last numbers of 2016 are just in, and we're happy to let you guys know that we're seeing some interesting progress on our growth - which of course it's also thanks to you guys - since that's the sole reason we're building and growing this platform.
So, here's an infographic that tells the story of how many of you are part of our success. Let's go!
First of all, let's look at how many users Aptoide has.


####Daily Active Users During the first two quarters of 2016 (look at us go!)


Aptoide's growth over the first six months of 2016 was astonishing. **We've passed 1.5 Million Daily Active Users**. That means our Daily Active Users nearly doubled during the first six months of 2016! That's a huge momentum - and it means that every single thing we do has an impact in loads more people than before.

Actually, in total, since January 2015, Aptoide has been used by more than 200 Million people all over the world!

![](/content/images/2016/10/0-AkLP515gDzNByivt-1.gif)




Now you can say ok great, but exactly how many people are actually using Aptoide? To answer that question we'll need to go deeper, and look at how the unique users changed over the last year. Let's see.




####Total Unique Aptoide Users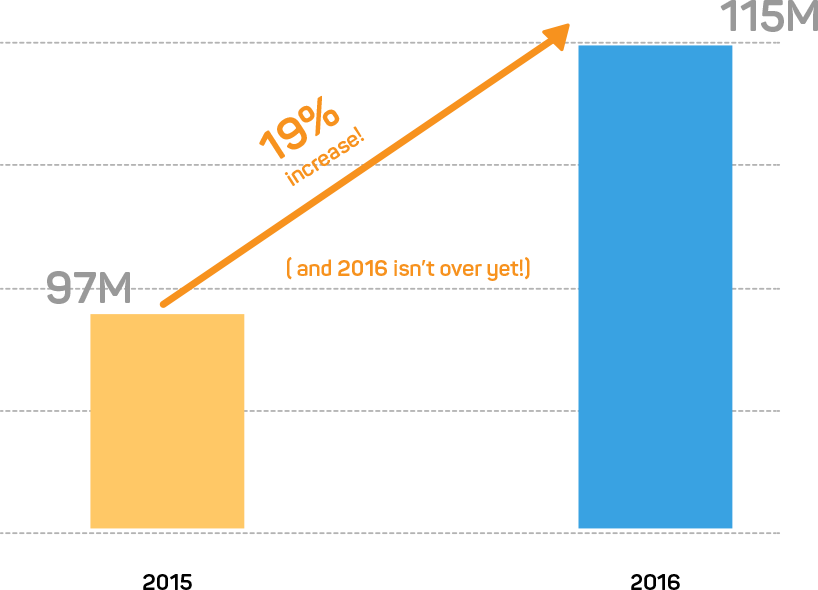 Cool, uh?
Now, what about downloads, you may ask?
I know, I know, because that's why you use Aptoide in the first place right? Let's see how we did.
![](/content/images/2016/12/downloadComplete.png)
Yeah, we know, mind blowing! We've surprassed 3,000,000,000 downloads -> That's 3 Billion Downloads!
![](/content/images/2016/10/1-_pGj3DixmBImxcAl_HWWdA.gif)
What about countries? Aptoide is truly going global, having users from more than 200 different countries.
###Here's some of our Top 10 Countries
![](/content/images/2016/10/world-flags.png)
As you can see we have users coming from all corners of the world, including every single continent. And when I say every, I mean every single continent - we've even had user sessions from Antartica! We're proud to be able to service to users hailing from the long cold night of the southernmost piece of land on our planet.
![](/content/images/2016/10/58132a13a5974827817761.gif)
So, fellow Aptoiders, I hope you're as happy with these numbers as we are, because, at the end of the day, Aptoide is you - our community, our users. Thank you for all your support over the last year!
Let's keep growing together in 2017!
![](/content/images/2016/12/giphy--52-.gif)