AppCoins Credits in a nutshell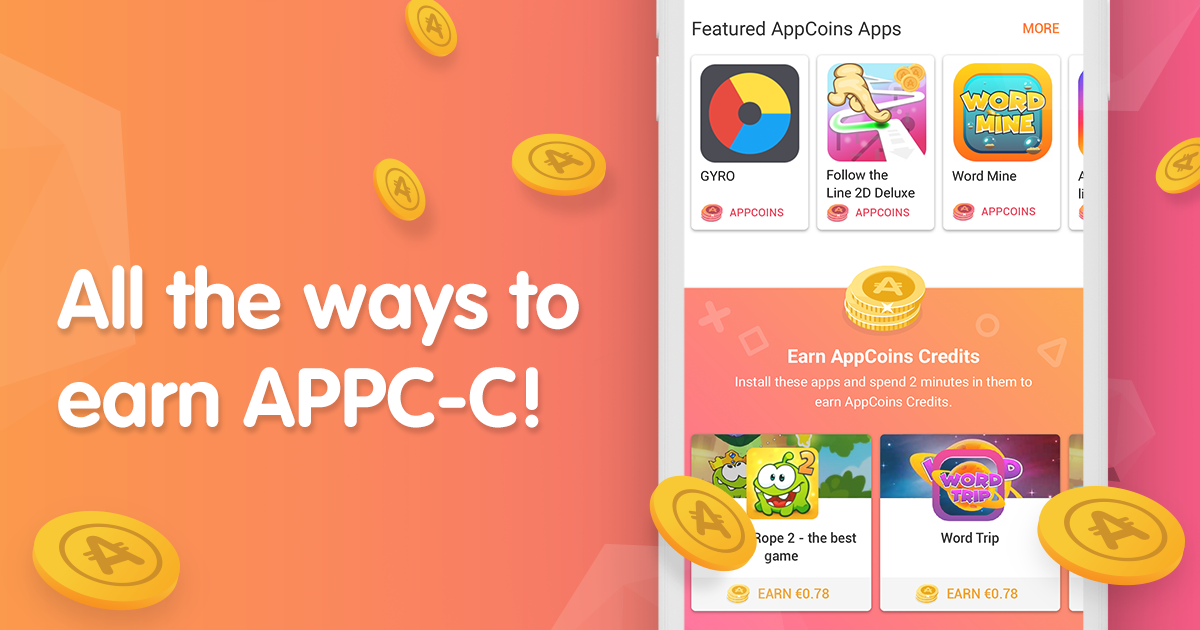 As you may know, users can earn and spend AppCoins Credits (APPC-C) to buy gaming items in their favorite apps and games. The best part? To earn such credits, users do not need a bank card or PayPal account!
That said, there are many other ways to use and earn AppCoins Credits. Read on to find out about them all! 😃
But first, what are AppCoins Credits?
AppCoins Credits are a virtual currency that allow Aptoide users to make transactions in AppCoins-enabled games. These credits cannot be cashed out, but can be earned for Free and used to buy more gaming items.
So, how do I earn AppCoins Credits?
These are all the ways in which you can get APPC-C:

1) By giving 2 minutes of your attention!
Choose a game from Aptoide's 'Earn AppCoins Credits' bundle and use the app for 2 minutes to start earning AppCoins Credits. This is called Proof-of-Attention (PoA). You can enjoy PoA up to three times a day and track the credits you earn inside your AppCoins Wallet!
2) By making an in-app purchase!
If you make a payment in an AppCoins-enabled game (apps with the AppCoins symbol), you will start to earn bonuses in the form of AppCoins Credits. The more you spend, the more credits you earn - it's that simple! Users can get up to 30% of bonuses and spend them in whichever APPC-enabled app they want!
3) By referring friends!
Now users can refer up to 5 friends and earn up to $10.00 worth of AppCoins Credits whilst at it! How? Click here for the step-by-step guide.
4) Taking part in Special AppCoins Programs
Aptoide has special campaigns such as Christmas, Valentines, Carnival, etc. By installing specific games that belong to the campaign, users get rewarded with APPC-C!
5) Send AppCoins Credits (Peer-to-Peer Transfers)
Did you know that you can transfer AppCoins Credits to a friend's AppCoins Wallet? Now you do!
6) Top Up Wallet
Players can also Top Up their wallets using a Paypal account or credit card. But you knew that already, right?
7) Ask Someone to Pay
Say you don't have a bank card or PayPal account, this is the option for you! This payment method allows users to ask for funds by sharing a link with the person that will make the Top-Up. Simple!
In which apps and games can I earn and spend APPC-C?
Inside the Aptoide app store, the following bundles allow users to earn and spend AppCoins Credits (APPC-C):
Featured AppCoins Apps (Earn and Spend AppCoins Credits)
Earn AppCoins Credits (Earn credits by giving 2 minutes of attention)
Use your AppCoins (Spend your AppCoins Credits)

And that's all there is to know! Happy gaming :)